About Us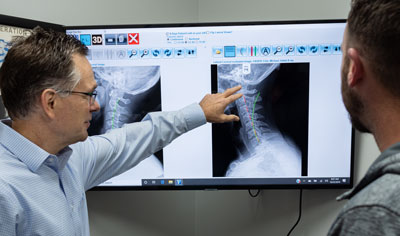 Dr. Thomas Green began practicing chiropractic in 1985. At first, he wanted to treat back and neck pain and headaches. Over time, however, he developed procedures to bring people higher levels of health and fitness and spinal correction. Now, he looks to teach patients the value of a preventative or maintenance approach to care as well.
Our Mission
Dr. Tara Mohl joined our practice in 2016. She and Dr. Green share a vision of service. Our team looks to educate and hopefully inspire families in the Lincoln community to take better care of their health and improve their quality of life. We want to give you the tools you need to live a better life and give you options for the type of care you receive and the best path to reach your personal health goals.
Many of our patients come to us seeking relief from pain or unwanted symptoms. Our hope is that you find the relief you need and discover the gift of ongoing good health through chiropractic treatment and patient education, including our wellness lifestyle classes. You may find that you look at your health differently after receiving chiropractic care. We like to think we see miracles every day – anytime someone is spared from debilitating pain or an unnecessary surgery because of a change in their lifestyle.
Why We're Different
One of the things that sets apart our practice is our use of Clinical Biomechanics of Posture®, a highly researched and published, specialized technique. Clinical Biomechanics of Posture helps change the structure and shape of your spine, and then works to correct and maintain it to avoid future problems.
We also empower our patients to decide what their care will look like. Unlike other providers who might develop strict treatment plans, we don't force you to accept a standard vision for your care. We do our best to present you with all the information and options you need to make the best decision for you, then leave it in your hands. You get to choose the care that's right for you.
We invite you to browse our site to learn more about our practice and what makes Green Chiropractic unique. Contact us today to learn more or to schedule your consultation!
---
About Green Chiropractic | Chiropractor Lincoln | (402) 466-6454